LEEDARSON Expands Manufacturing Presence in Thailand's Eastern Economic Corridor (EEC), Strengthening Position as a Leading IoT Technology Company
2023-05-09
Bang Pakong, Chachoengsao - May 5 - LEEDARSON, a prominent player in the global IoT technology industry, is thrilled to announce its continued expansion in Thailand's Eastern Economic Corridor (EEC), solidifying its position as a world-leading manufacturer of smart home devices.
Designed as a thriving advanced manufacturing and service industry base, the Eastern Economic Corridor (EEC) is a major economic development initiative established by the Thai Government. With exceptional transportation advantages in ocean, land, and air connectivity, the EEC has become the premier hub for industrial ecosystems and supply chains in Southeast Asia.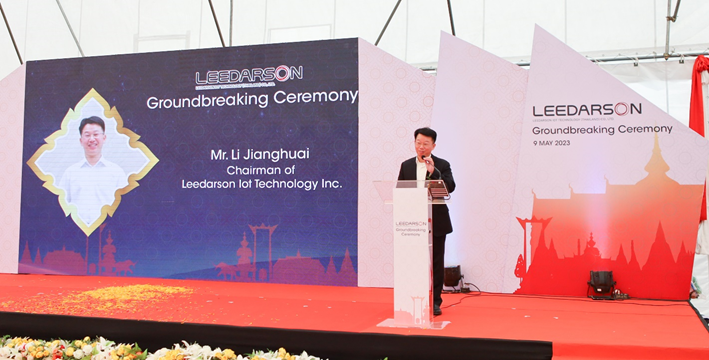 Image: A keynote speech from Mr. Eder Li, the Group President of LEEDARSON
Since 2019, LEEDARSON has made significant investments and established manufacturing bases in Thailand. The successful launch of Projects Phase 1 & 2 marked a pivotal milestone in LEEDARSON's commitment to the region. Now, the company proudly announces the commencement of Project Phase 3, located in the industrial estate of Chachoengsao Province.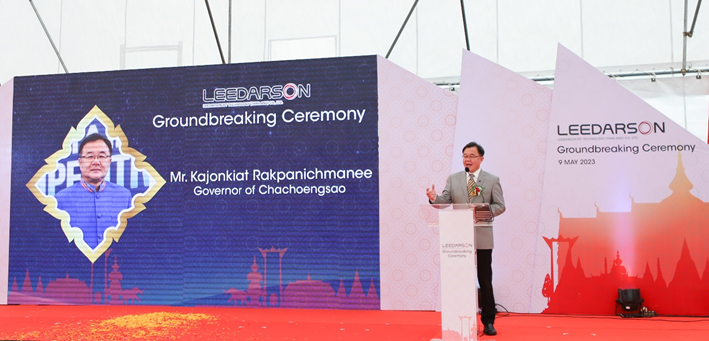 Image: A keynote speech from Mr. Kajonkiat Rakpanichmanee, the Governor of Chachoengsao
Spanning an expansive area of 163,000m², or 1.75 million square feet, Project Phase 3 aims to be an IoT technology industrial park integrating various aspects of LEEDARSON's operations. This innovative facility will encompass headquarters, IoT production, Smart Appliance production, Lighting production, plastic and metal parts supply, and auxiliary office facilities. The centralized production model allows for streamlined supply chain management, shorter lead times, and enhanced efficiency and dependability in product delivery.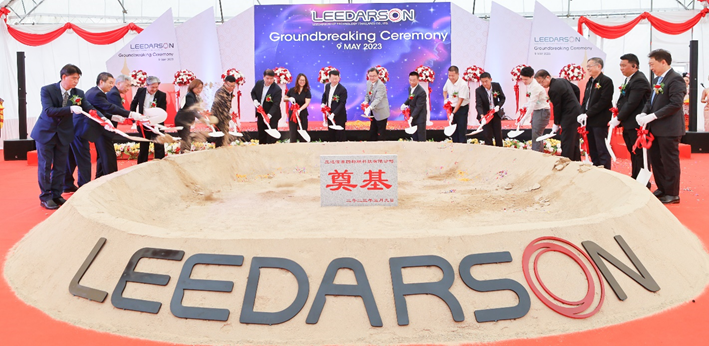 Image: The ribbon-cutting and groundbreaking ceremony came after the speeches
Situated strategically within close proximity to Thailand's main ports, LCB and PAT, as well as Suvarnabhumi Airport, Project Phase 3 capitalizes on excellent transportation connectivity, ensuring seamless import and export operations for LEEDARSON's global customer base.
"At LEEDARSON, we are committed to being customer-centric, delivering exceptional IoT technology solutions," said Mr. Eder Lee, The Group President of LEEDARSON. "Our expansion in Thailand's Eastern Economic Corridor strengthens our manufacturing capabilities and enables us to provide reliable quality control, efficient supply chain management, and outstanding global marketing abilities. We strive to be a world-leading IoT technology company that exceeds customer expectations and contributes to a promising future."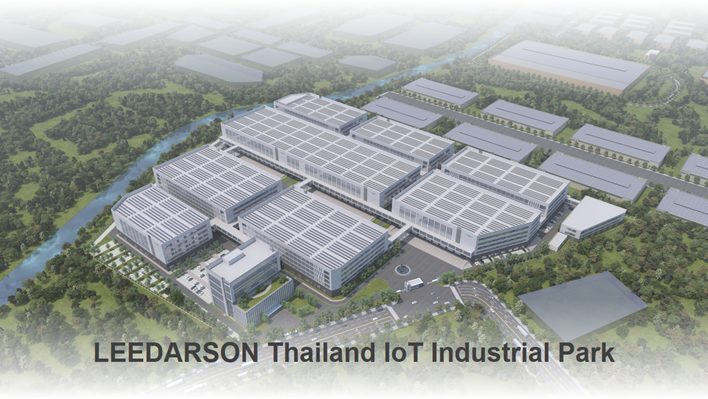 Image: A visual representation of LEEDARSON's proposed new industrial park
LEEDARSON's investment in the Eastern Economic Corridor demonstrates its dedication to fostering innovation, expanding production capacity, and driving economic growth within the region. With a steadfast focus on customer satisfaction, LEEDARSON Thailand is poised to become a leading force in the IoT industry while contributing to the development of the EEC as THE manufacturing center and logistics hub of Southeast Asia.
For more information about LEEDARSON and its innovative IoT solutions, please visit www.LEEDARSON.
About LEEDARSON
LEEDARSON is a globally recognized IoT (Internet of Things) technology company specializing in the design, development, and manufacturing of smart home devices. With a commitment to innovation, quality, and customer satisfaction, LEEDARSON offers a comprehensive range of smart lighting, security, and automation products for residential and commercial applications. The company's advanced manufacturing facilities and extensive global reach make it a trusted partner for leading brands around the world.