Leedarson is Entering Smart Household Appliance Market
2020-08-12
Since ancient times, people have tried to make life more convenient with wisdom. With the improvement of living standards and the appearance of IoT technology in recent years, the products and concept of Smart home have been created. In the early years smart home still had many shortcomings and imperfections, but with the unremitting efforts of many excellent manufacturers, it has been gradually improved and entered the household. People also have more and more demand and hope for the smart home.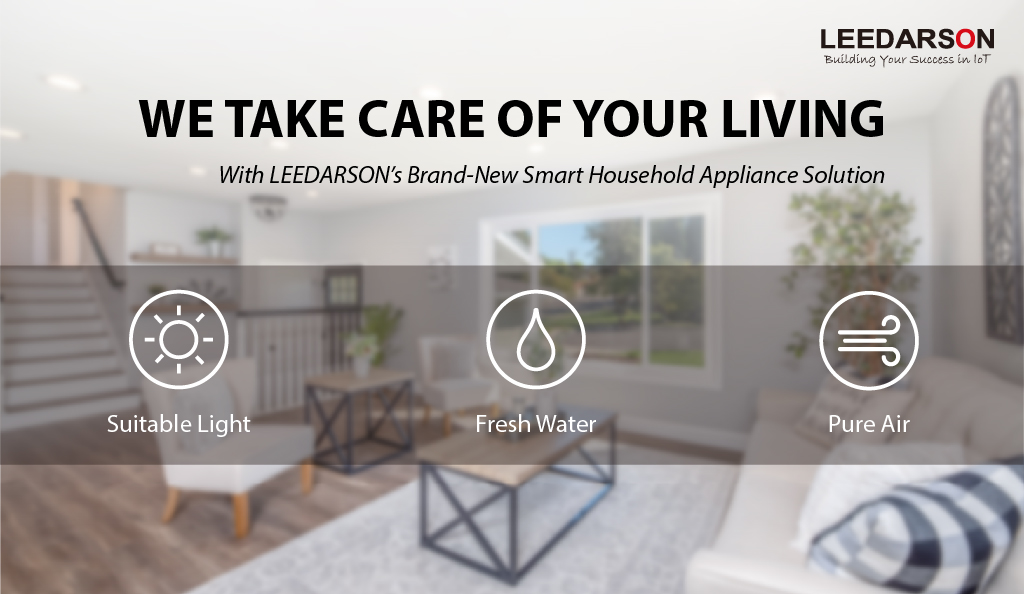 As one of these manufacturers, LEEDARSON has been sparing no effort to upgrade its services and improve its technology for improving the living standards of all mankind. Leedarson has hidden behind many brands for 20 years of production experience precipitation. Leedarson has already launched a number of
smart home products
including- but not limited to –
smart lighting
,
sensors
,
cameras
,
hub
,
TRV
, and much much more. Now, in order to realize the integration of smart home and provide users with a full set of smart ecological environment, LEEDARSON is going to launch its own
small home appliances
. The company has been slowly unfurling its wings in the market with its big vast portfolio of products as it recently announced smart air purifier, a great improvement of lifestyle. With years of technology accumulation (firmware, software, hardware, and algorithm) and self-sufficient manufacturing strength, we could see even more product categories at the upcoming year considering Leedarson's goal - let people live simple in all aspects and have a good life. Please pay attention and look forward to it.
About LEEDARSON
LEEDARSON is a leading IoT ODM. They specialize in R&D, production, sales of IoT products, LED light sources, LED lamps, and fluorescent energy-saving lamps. Founded in the 1990s in Xiamen, China, LEEDARSON set the goal of becoming the largest lighting IoT supplier in the world. They began connected lighting research in 2011, and the company grew dramatically in the lighting industry through manufacturing light sources, light fixtures, and offering complete lighting solutions. LEEDARSON also continued to grow in the greater IoT, expanding their product lines to gateways, sensors, smart plugs, switches, dimmers, and IP cameras, which constitute a complete smart home solution. Today, they are known as a high-quality, efficient one-stop shop ODM focused on helping organizations develop proven, reliable, and interoperable smart products for the home automation, entertainment, security, and video surveillance categories.